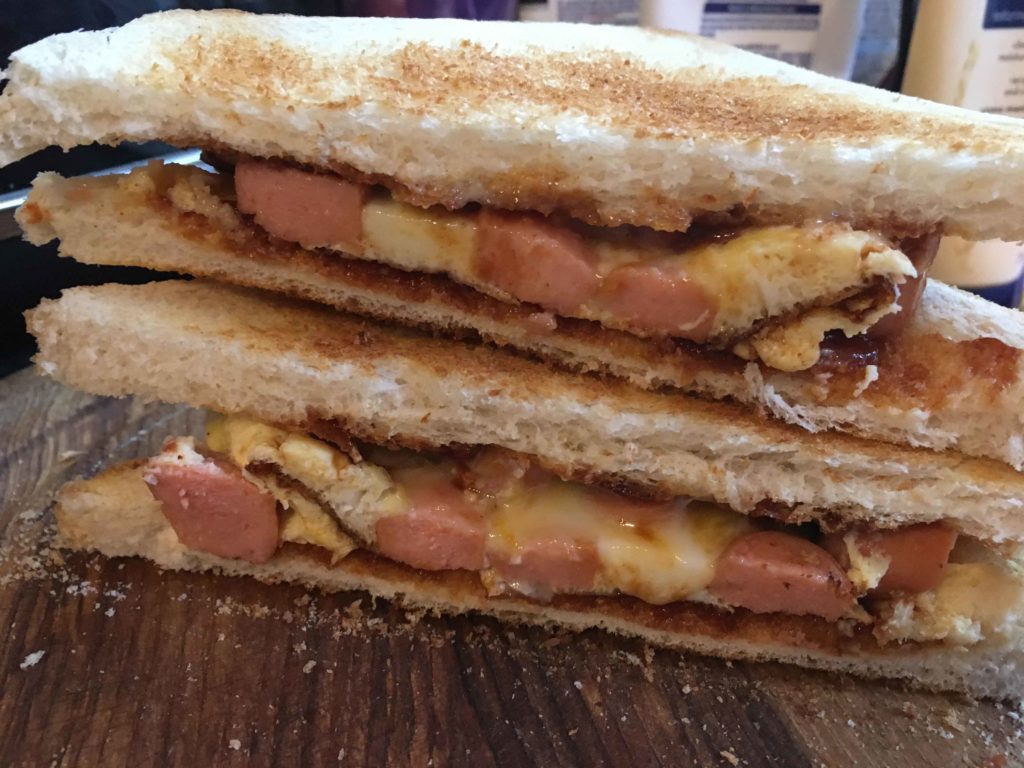 I love a toastie for breakfast, after all what better way to set yourself up for the day than having a hot meal that is just enough to leave you energized but without the heaviness of a full cooked breakfast.
Now, top of my list for breakfast toasties and omelette toasties. They are a great way to start the day and this simple Frankfurter version is no exception. After all, who doesn't want hot dogs and eggs for breakfast.
Plus, this whole dish can be ready in under ten minutes.
Video
Learn how to make this omelette breakfast toastie by watching my short video.
Ingredients
The following ingredients are required to
2 Frankfurter sausages chopped into bite size chunks
1 egg
2 slices of bread
Knob of Butter
BBQ Sauce
Frankfurters
Hot dog sausages may not be the healthiest of food but there is no denying that a simple smoky bratwurst is very tasty and it is even better when added to an omelette toastie.
For this recipe I've used the Herta Classic Frankfurters.
Eggs
A super food wrapped in it's own packaging. Beat the egg lightly before adding it to the pan and try not to over cook it. You want it firm but not dry.
Bread
Any bread will do for this toastie. If you have a sourdough loaf to hand it will be absolutely delicious and woul dbe my top choice. However, regular bread is fine and still very tasty.
Butter
Use a generous knob of butter when cooking the omelette as, everything is better with butter. My new favorite phrase.
BBQ Sauce
I used a BBQ sauce to finish off this toasted sandwich but you could also opt for ketchup, mayonnaise or brown sauce (it's a Brit thing).
No cheese
So, I haven't added any cheese to this recipe but it would be very easy to do. Simply add grated cheddar or a slice of Gouda to the omelette mixture as it cooks.
Directions
Follow these directions to make this frankfurter and egg recipe.
Heat the frying pan and add the butter
As the butter starts to melt add the chopped frankfurters and cook for 3 or 4 minutes
Place the bread in the toaster
Add the beaten egg to the frying pan making sure to capture all the chunks of frankfurters inside the egg mixture
Shape into a rough rectangle shape and cover with a saucepan lid to cook the egg on top
Cook for 3 minutes
Lay out the toast and add the omelette to one piece
Drizzle on your choice of sauce e.g. BBQ
Slice and enjoy
Vegetarian version
To make a vegetarian version of this dish simply use vegetarian or plant based hot dogs.
Equipment Used
I used the following equipment to make this breakfast toastie recipe.
Small frying pan
I used my trustee small frying pan to cook the frankfurters and omelette
Toaster
Simple is best for this toasted sandwich so I cooked the bread in the toaster. I use a four slice toaster similar to the one above as it allows me to make two sandwiches at once. When you have three kids like me this is very handy.
On the side
This breakfast toasted sandwich recipe goes really well with a Dijon Mayonnaise dip.
More recipes
For more toasted sandwich recipes take a look at my A..Z.
Get my latest toasted sandwich recipe
To mke sure you don't miss out on my latest toasted sandwich recipe be sure to sign up to the Toastie Club.