How to make the perfect toastie
What is the perfect toastie?
Before we get into the details of how to create the perfect toastie I think it is worth taking some time to set out and agree What is the perfect toastie?
A perfect toastie is an uplifting piece of food. It is something that can take a dull day and make it better. It is comforting, full of flavour and satisfying.
But it is also fun. After all anything can go into a sandwich so why not a toasted sandwich. This freedom to try anything makes it a lot of fun and you can experiment.
How to make the perfect toastie
So how do you make the perfect toastie. It is simple and surprising. Read on for more details but here is a quick list of how to make the perfect toastie.
Buy a decent toasted sandwich maker
Use thick bread
Pack the sandwich full
Don't worry about leakage
Use plenty of butter or oil on the bread or toasted sandwich plates
Don't open the sandwich maker during cooking
Buy a decent sandwich toaster
The range of toasted sandwich makers available is huge with some ludicrously cheap.
But you get what you pay for in life and cheap toasted sandwich maker is going to get you a cheap toasted sandwich.
I am not saying spend a fortune but do some research and be prepared to spend over £20.
For more details on on buying the perfect sandwich toaster then check out my buying guide.
Use thick bread
Thin bread simply won't hold the filling in and give you a crisp finish, so pick up the thick stuff and ideally pieces the same size as the plates in your toasted sandwich maker.
Pack the sandwich full
You really want a good hit of flavour from your toasted sandwich so be sure to pack it full of fillings.
Especially the cheese, if you are having a cheese based toastie, like this cheese and mushroom toastie, you will want the cheese to melt around the other ingredients of your sandwich and even spill out the side to create a tasty cheese crust. This can only happen when you have enough cheese in the sandwich.
Also,for the perfect toastie you need to throw in plenty of seasoning, herbs and spices. Toasties can take big flavors so don't be afraid to use them. The only thing to be careful with is salt. Cheese and a number of meats contain quite a lot of salt which is enhanced by the cooking process. So, plenty of pepper but not too much salt.
Don't worry about leakage
You open the toasted sandwich maker and discover that some cheese has leaked out the side or maybe through a small hole in the bread.
Brilliant! This is just what you want for the perfect toasted sandwich.
This filling will grill, crisp up, and take on a more intense flavor that adds a new dimension to your toastie.
Use plenty of butter or oil for a crispy toastie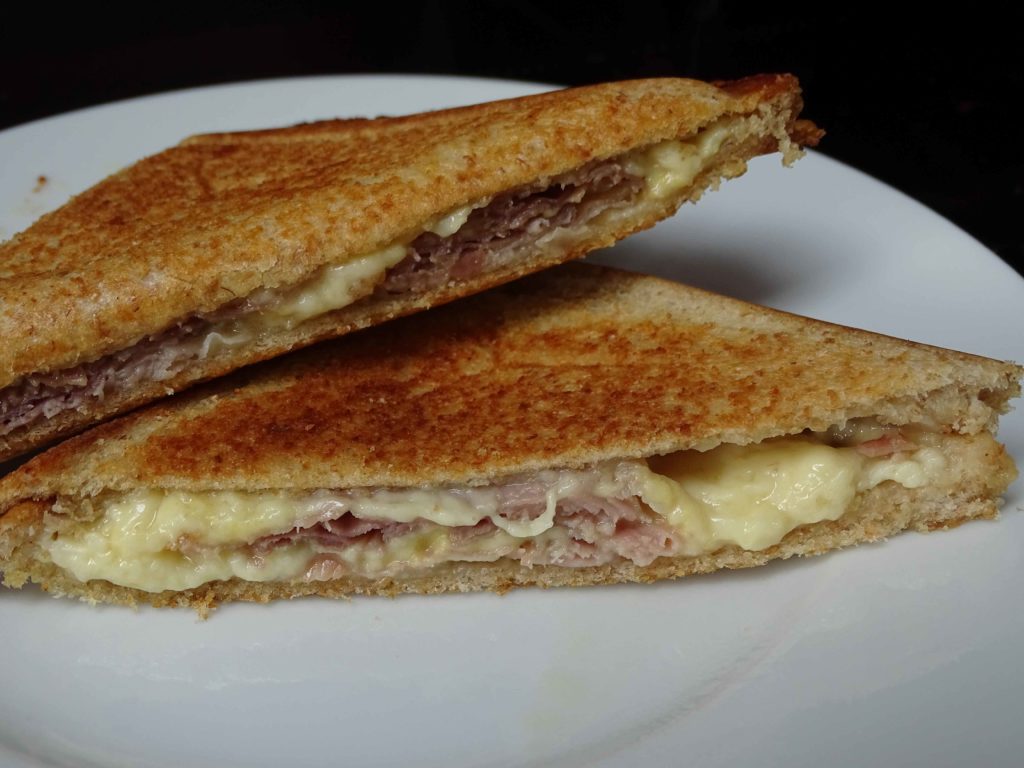 The perfect toasted sandwich has a crispy outer shell and the best way to get it is with some butter or oil.
It doesn't really matter to much which you use e.g. butter, olive oil, rapeseed oil. Just that you cover the outside well. A well basted Toastie will crisp up nicely in the sandwich maker.
The only consideration you should give to the oil or butter you choose per sandwich is whether it will impart any flavour. For example salted butter or coconut oil will both impart flavours into your toastie.
Don't open the sandwich toaster while cooking
This is the most important tip for the perfect toastie. When you are cooking the toastie do not open the sandwich toaster to early.
This is because as soon as you do you will break contact with the top plates of the sandwich maker and it will not impart the same intensity of heat again to the bread. It will be hot but cooking time will be much slower and crucially uneven between the top sides and bottom sides.
A good rule of thumb is to keep the sandwich maker closed for at least ten minutes.
Conclusion
In conclusion, for a great tasting toastie just follow these 6 simple rules and you will be toastie heaven each and every time.
Happy toasting!