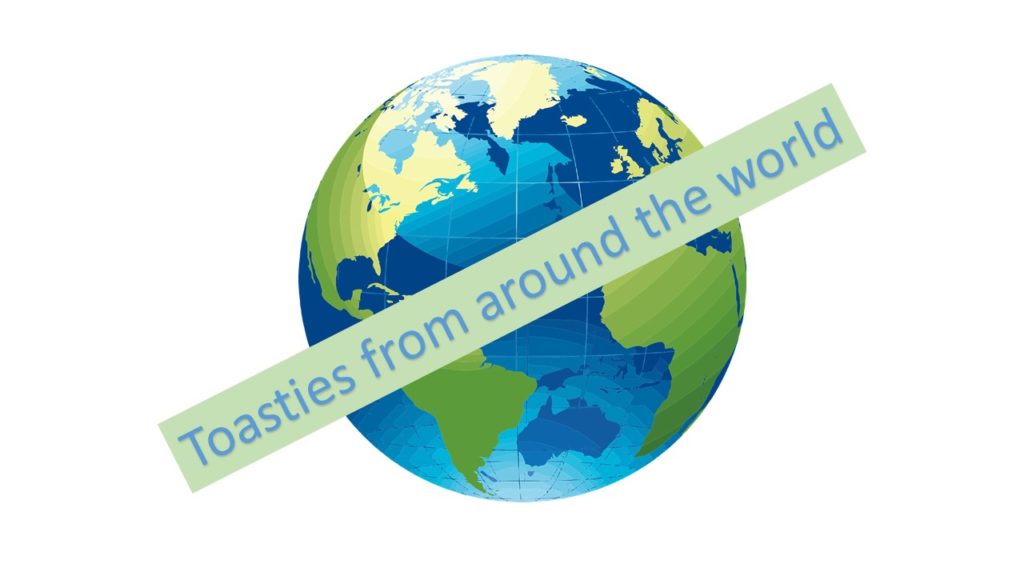 Did you now that toasties are a global food phenomenon? Well, they are and here are the best toasties from around the world.
Gilgeori-toast
Country of Origin
South Korea
Type
Street Food
Ingredients
eggs, cheese, ham,
carrots, cabbage and mayonnaise
Gilgeori-toast Fact Sheet
Gilgeori toast is a street food classic in Korea with many commuters grabbing this on there way to work in the morning. It is a winning, if unusual, combination of eggs, carrots, and cabbage sandwiched between buttery fried toast.
Check out this great video from sushi bomber showing you just how it is made.
Who wouldn't want to start the day like this.
Croque Monsieur
Country of Origin
France
Type
Bar snack
Ingredients
whipped eggs, bechamel sauces,
Emmental cheese,
boiled ham, salt, pepper, butter
Croque Monsieur Facts
The humble Croque Monsieur can be found in most bars and cafes across France and is the go to snack choice for the French and most visitors.
If you happen to find yourself in Paris it is also a great low cost choice for lunch to save a few pennies in a very expensive city.
Check out this great recipe from Dreaming of Food
Croque Madame
Country of Origin
France
Type
Bar snack
Ingredients
Fried eggs, whipped eggs,
bechamel sauces,
Emmental cheese,
boiled ham, salt, pepper, butter
The sister, wife, partner, significant other, better half to the Croque Monsieur the Croque Madame has that touch more flavor and style with a fried egg on top.
Here is the wonderful Laura in the kitchen showing you how to enjoy this classic French bar food at home.
Monte Cristo
Country of Origin
USA
Type
Home cooked food
Ingredients
Butter, ham,
cheese, eggs
middle slice of bread,
mayonnaise
Just like French Fries this is an American take on the French classic Croque Monsieur and began appearing in American cook books way back in the 1930's often referred to as the "French Toasted Sandwich"
However, this is now very much an American sandwich since they removed the bechamel sauce from the original recipe and replaced it with an extra slice of bread in the middle making it into a hearty snack.
It is also often made with a bit of sugar in the egg wash giving it a sweet-ish taste.
Check out this version from Totikky Tikky and give it a go when you are feeling really hungry.
Baked Bean Toastie
Country of Origin
UK
Type
Home cooked food
Ingredients
Butter,
baked beans in tomato sauce,
Baked Bean Toastie Facts
The British love baked beans, and a Baked Bean toastie is a favorite across the UK. It can be a bit messy to eat but this just adds to the fun. Have a go by following our simple recipe.
Check out our own video on how to make a baked bean toastie.
Quesadillas
Country of Origin
Mexico
Type
Street Food
Ingredients
Taco, cheese, peppers
chicken, sweetcorn
and salsa
Now, it is hotly argued on the internet (what isn't!), as to whether Quesadilla are Mexican food or Tex-Mex (American). The truth is…I don't care. What they are is a super tasty toasted sandwich that you pack with all sorts of ingredients.
Check out one of You Tubes favorite cooking teachers Babish (who says they are Tex-Mex BTW) as he teaches you how to make gorgeous Quesadillas.
Reuben
Country of Origin
USA
Type
Delicatessens
Ingredients
Corned beef,
swiss cheese,
sauerkraut,
Russian dressing
An American classic toasted sandwich packed with flavor and served on Rye bread.
The key ingredient to this recipe is the Russian dressing and this great video from RockinRobinCooks shows you how to make it from scratch.
Grilled Cheese
| | |
| --- | --- |
| Country of Origin | USA |
| Type | Home Cooking |
| Ingredients | American Cheese, butter |
I debated exactly which cheese toastie to put into this post. After all, almost every western country in the world has some variation on the basic, but tasty, cheese toastie.
In the end I went for the American Grilled Cheese. Why? Because it is a staple comfort food known all over America. So much so that they actually have a national Grilled Cheese Day.
Another reason for choosing America is that the processed America cheese always melts perfectly and evenly between the buttered bread.
Plus, it has featured in many, many, TV shows over the years helping it gain popularity around the world.
Now, what about a video, well the choice was never ending but in the end I went for this one from Binging with Babish because of all the times I've seen this sandwich on the TV..
Classic Western Sandwich
Country of Origin
Canada
Type
Diner
Ingredients
Ham, eggs
cheese, onion
green pepper,
eggs
This is a classic diner recipe from Canada that is packed with hams and eggs but comes with a twist of green pepper.
While it is more commonly eaten in Canada and known as a Western it is actually based on the Denver sandwich and is effectively a Denver omelette between two slices of toast. Not dissimilar to my own Breakfast Omelette Sandwich which is a great way to set you up for the day.
Check out this pimped up version from the Tickled Toad in Ontario filmed by KBDProductionsTV
Bombay Vegetable Sandwich
Country of Origin
India
Type
Street Food
Ingredients
Potato, chaat masala,
green chutney, tomatoes,
onion
As you would expect from a toastie heralding from India the Bombay Vegetable Sandwich is packed full of flavor with a hit of heat.
As well as the chaat masala this hit of flavor is thanks to a green chutney which is a paste made from mint leaves, coriander and chili.
This sandwich is a popular street food in India and just check out this video from Food Fatafat of a street trader making super sized Bombay sandwiches.
I Want More
As you know I absolutely love toasties and while I have a great list of some of the best from around the world I am always searching for more. So, if you have a fave that should be included in this list than join the toastie club and send me an email. Alternatively, message me at the ToastieRecipe Instagram account.
The right equipment
To make great toasties like these you need to have the best toastie making equipment. Check out our equipment guides and start making delicious toasties as soon as you can.
More toastie recipes
If the above has you craving a toastie filled with hot gooey cheese and a variety of other fillings than good. Now head over to our recipe collection to find the one to meet that need and give you your toastie fix.
Toastie Club
Right now i expect you are saying to yourself "this guy really knows toasties but how can be sure I won't miss one of his great recipes?" Well, the answer is simple. Joint the toastie club and once a week I will email you my latest recipe and articles.