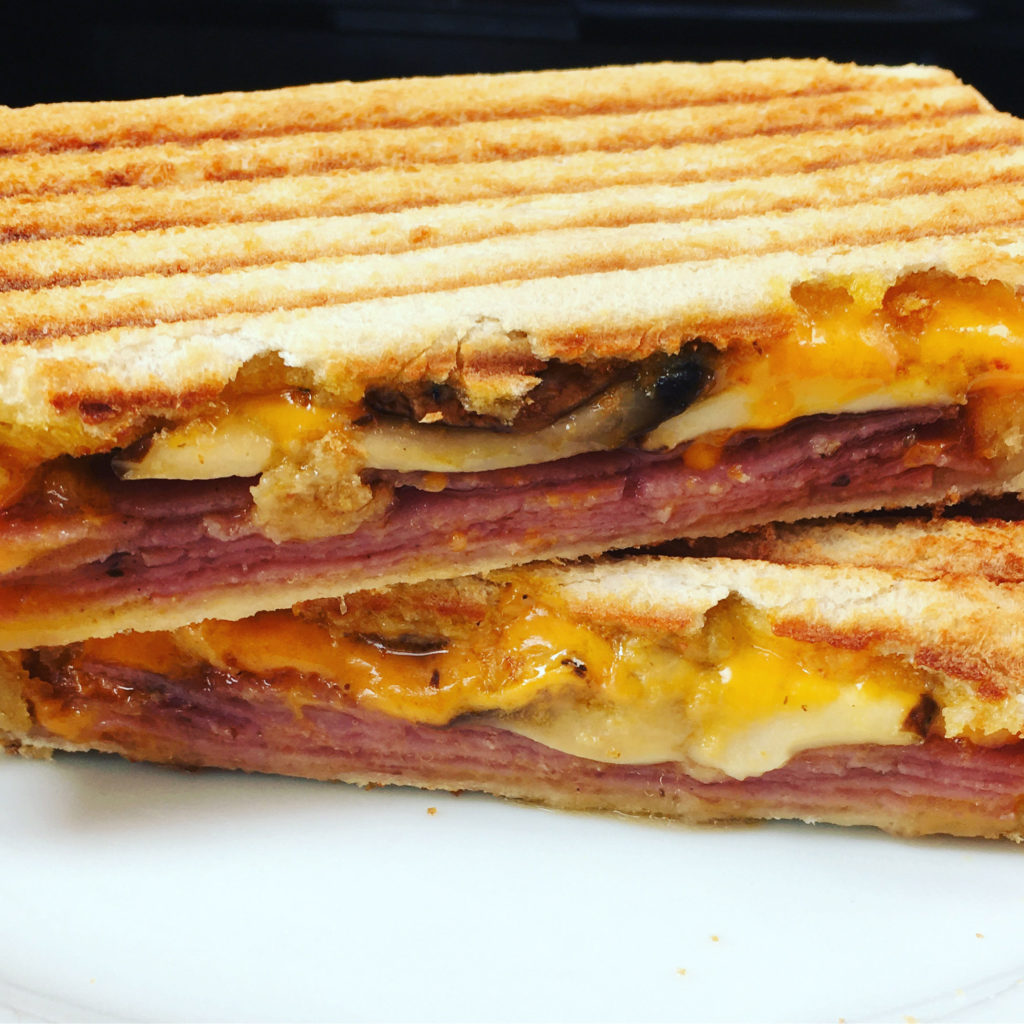 So what happens when you take a handful of leftover mushrooms, add some salami, a generous helping of cheese and squeeze it together between two slices of toasted bread?
The answer is a very tasty lunch.
The earthy mushrooms, sweet and spicy salami and mellow Red Leicester cheese in this sandwich work together really well.
Give it a try today with this easy Mushroom and Salami toasted sandwich recipe.
Video
Watch the video on how to make a Mushroom, Salami and Cheese Toasted sandwich.
Ingredients
You need the following ingredients to make this mushroom and salami toasted sandwich recipe
2 Mushrooms, sliced
3-6 slices of German salami
2 Slices of Red Leicester cheese (or 40g of grated)
2 Slices of thick cut bread
Directions
Here is how to put it all together to make this great tasting toasted sandwich.
Fry the mushrooms until they have changed color and all the water has been cooked out
Place one slice of bread in your toasted sandwich maker
Add a slice of cheese followed by the salami and mushrooms
Top with the remaining slice of cheese and bread
Close the toasted sandwich maker and cook the sandwich for 8 to 10 minutes until golden and crispy.
On the side
Serve this Mushroom, Salami and Cheese toasted sandwich with a handful of tortilla crisps and a cold can of coke.
Avoid any dips or sauces as this tasty sandwich really doesn't need them.
Equipment Used in this Recipe
I used the following equipment in this recipe
The links in the list above are affiliate links to Amazon, if you click on those links and then make a purchase with may get a small commission from Amazon for linking you to great products and this goes towards funding the site and recipe development
Toastie Club
If you liked this recipe and want more then be sure to sign up to the Toastie Club and as well as a weekly update, recipe and articles you will also get access to exclusive Toastie Club only content.
Mushroom and Salami Toasted Sandwich
Recipe for a delicious mushroom and salami toasted sandwich that makes the perfect tasty lunch
Equipment
Small Frying Pan

Toasted Sandwich Marker

Silicone spatula
Ingredients
1-2

Mushrooms

Sliced

2

large slices

Red Leicester cheese

I recommend the pre-sliced version

3-6

slices

German salami

2

slices

thick cut bread
Instructions
Fry the mushrooms until they are golden and all the water is cooked out of them

Lay one slice of bread in the toasted sandwich maker

Add one slice of cheese followed by the salami and mushrooms

Top with the remining slice of cheese and bread

Cook for 8-10 minutes until golden and crispy
Video