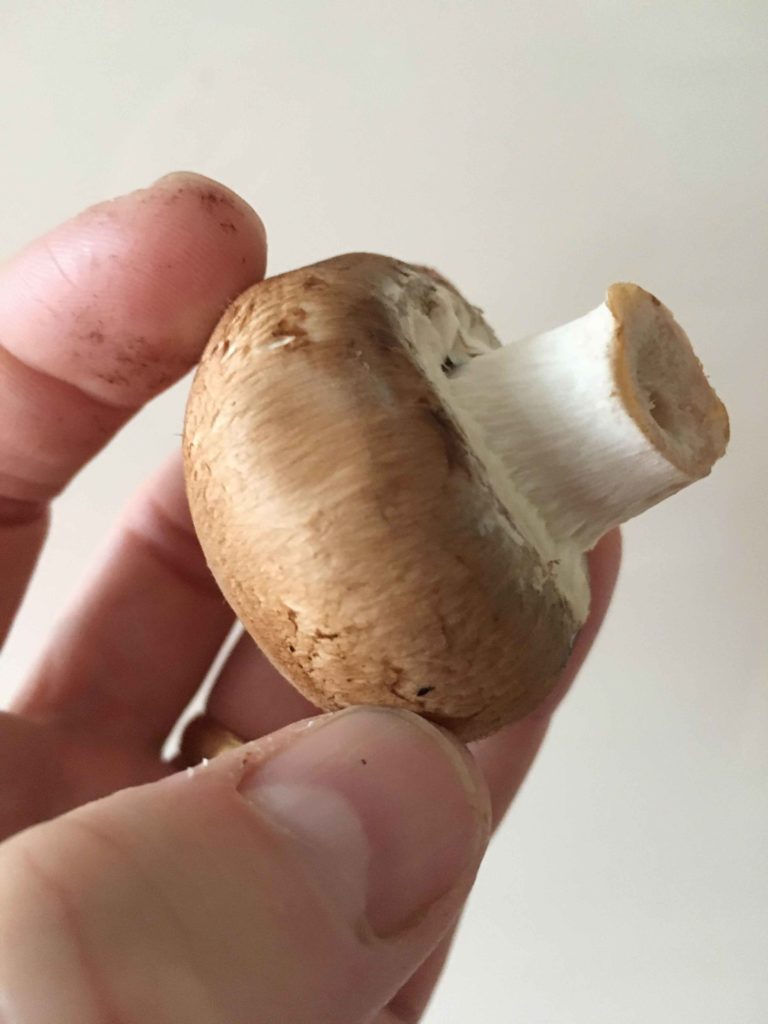 When I was younger I really didn't like mushrooms, but then until the 1990's kicked in no one really knew how to cook mushrooms in the UK. They would serve up raw mushrooms with iceberg lettuce…yuck.
However, come the 1990's, and the middle class culinary revolution, and suddenly mushrooms became not just tasty but super tasty. We discovered there were more than just button as a type and that they were fantastic in soups, casseroles, Chinese (who doesn't love beef in black bean with mushrooms), Italian and even served on the side of a fry up.
OK, so maybe I am being unfair about Britain and it was really me that underwent a culinary revolution in the 1990's as I moved from 13 to 23 and from Nirvana to Britpop.
But it doesn't really matter, what matters was that I discovered how wonderful mushrooms are and still believe that to this day. In fact I think they are the super food of the future…but more on that later.
Right now, we can focus on the wondrous variety of mushrooms available, their taste, their brilliant ability to take on flavors, their low calorie count and the list goes on.
And with all of the above they also make great toasted sandwich fillings and in this post I list my favorite mushroom toasted sandwich recipes and throw in a few mushroom facts and cooking tips along the way.
Contents
In this article I cover
Summary of the best mushroom toasted sandwich recipes
Here are my favorite mushroom toasted sandwich recipes
Video Playlist
Just sit back and watch as I cook up my favorite mushroom toasted sandwiches.
Mushroom cooking tips
Mushrooms come in all shapes and sizes and can require different handling to cook them. Now, I am not about to go into the detail of how to cook every type of mushroom. What I am going to provide is some cooking tips to get the most out of mushrooms in a toasted sandwich.
Cook the Mushrooms first
Mushrooms contain a lot of water. When you cook them it comes outs. So, if you were to throw uncooked dry mushrooms into your toasted sandwich you would most likely be left with a soggy mess at the end of cooking.
Frying is a simple and quick way to achieve this and ensures you cook out the moisture without losing the taste.
But what about those mushrooms that you have to soak like dried Shitake Mushrooms I hear you cry. Well, the same principle applies. Soak the mushrooms as directed, cook them, then add to the sandwich.
A pinch of salt goes a long way
Mushrooms can have a subtle flavor. So subtle that is can get lost in all the cheesy goodness of a toasted sandwich.
Therefore, to help bring out the mushrooms natural flavors be sure to add a generous pinch of salt near the end of their cooking time (before you put them in the toasted sandwich).
Mushrooms take on other flavors brilliantly
As well as providing their own great taste mushrooms take on other flavors really well so don't be afraid to throw in some herbs and spices when you are cooking them up. One of my favorites is garlic.
Wipe don't wash your mushrooms
Mushrooms often have some dirt left on them when you get them home from the store. However, don't be tempted to wash or rinse them. If you do you will just add more water to them and it will take longer to cook it out.
Instead, dampen a piece of kitchen roll and wipe down your mushrooms.
The best Mushroom Toasted Sandwich Recipes
Mushroom Toasted Sandwich
Simple, maybe even basic. But very tasty. Plenty of seasoned mushrooms and a bit of cheese between two slices of bread is all you need for a trip to mushroom heaven over lunch.
Check out my video to see how to put this great sandwich together.
See the full recipe.
Garlic Mushroom Toasted Sandwich
As I said above, mushrooms are great at taking on flavors and garlic is probably the best and most famous mushroom mixer. For a really simple garlic mushroom toastie just follow the mushroom recipe but throw in some finely chopped garlic or garlic salt with the mushrooms as you fry them up.
See the full recipe.
Cheese, Ham and Mushroom Toasted Sandwich
Ham a cheese is already a classic toastie. But elevate it one level higher by throwing in some delicious mushrooms. Also, be generous with all three ingredients.
This toasted sandwich can taste a bit salty so serve it up with a nice sweet ketchup.
See the full recipe.
Emmental and Mushroom Toasted Sandwich
Don't be afraid to push the boat out when it comes to cheese with your mushrooms. It can take some big hitting flavors just like Emmental.
Layer up the cheese with the mushrooms and then pop it in your toasted sandwich maker.
You can also throw in some garlic with those mushrooms for an added flavor burst.
See the full recipe.
Mushroom and Salami Toasted Sandwich
These two flavors complement each other perfectly.
Mushroom and Baked Beans
This combination of mushrooms, beans and cheese makes a superb breakfast or lunch toasted sandwich.
Other great Mushroom recipes
I think we have already covered how versatile and tasty mushrooms are in toasted sandwiches, but they are also great in other recipes and here are just a few ideas.
Mushroom Soup
Mushroom Risotto
Mushroom Stew
Mushroom Burger
Toastie Club
I hope you have enjoyed this article on the best mushroom toasted sandwich recipes and tried at least on of my recipes.
If you would to make sure you don't miss out on future articles and recipes then be sure to join the toastie club today. Don't worry, I only send out one email a week.
More recipes
Be sure to check out my complete A..Z of toasted sandwiches recipes.