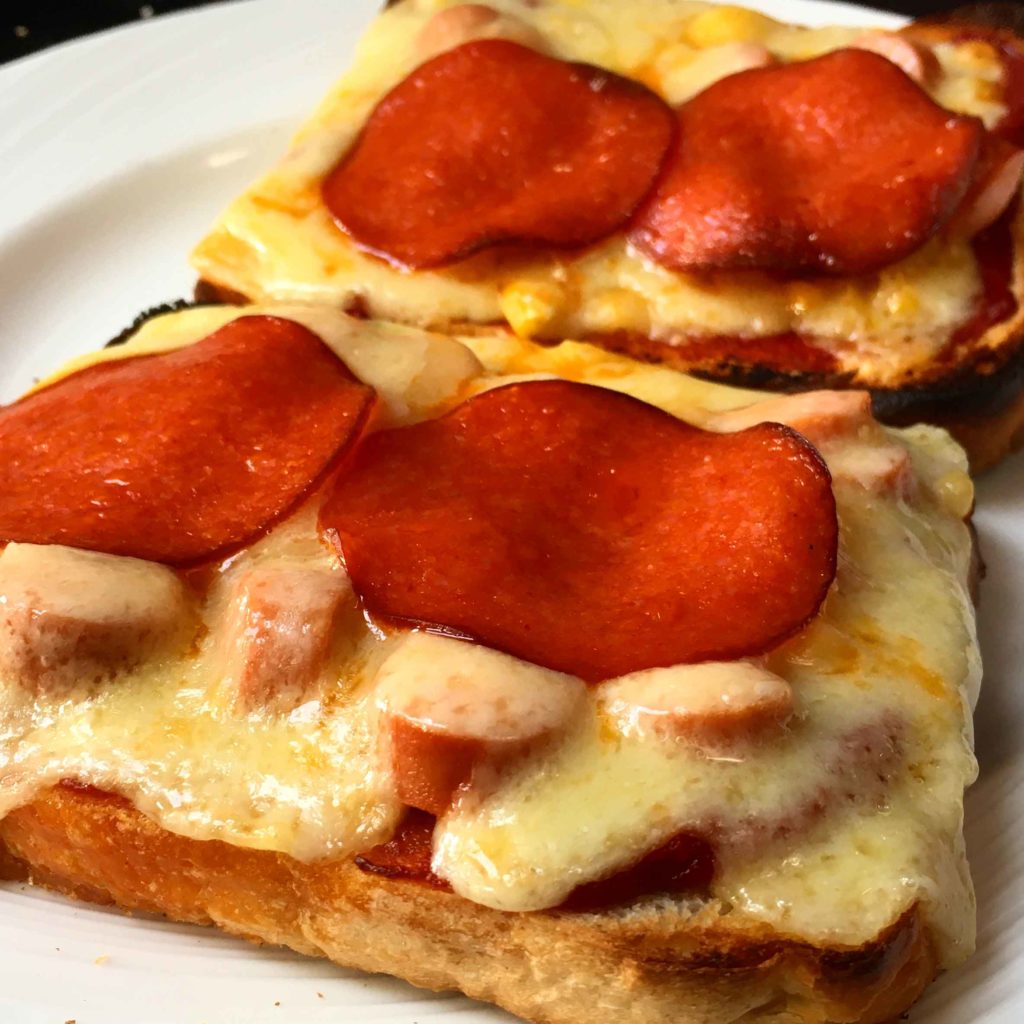 An easy recipe to use up those leftovers and enjoy a tasty lunch.
What is Pizza Toast
There aren't many people in the world who don't like pizza. After all you can have pretty much any combination of toppings you like and I have even read about a banana and curry pizza!
Now, while you can get ready made bases or even order a takeaway pizza these things are a bit expensive and heavy for lunch. Plus, they can take a long time to cook or arrive.
So, how do you enjoy the taste of pizza for lunch without it taking ages to cook, breaking the bank or making you uncomfortably full? Simple, you have Pizza Toast.
Pizza Toast is simply a step up from cheese of toast by adding more ingredients and a base layer of delicious pizza sauce. You make it the same way as you make cheese on toast using a grill (broiler) and it takes about the same amount of cooking time. It does require a tiny bit more preparation time but this is well worth it for the tasty Pizza pay off.
For this recipe I made a simple BBQ Pizza sauce but you could just as easily make a tomato one, or possible a garlic butter pizza sauce if you aren't seeing anyone for the rest of the day.
Pizza Toast is also known as Pizza on Toast but it is the same recipe.
How to make Pizza Toast
Here is the video of me making this delicious recipe. In it you see just how easy it is to make Pizza Toast while I talk you through each step.
Ingredients for Pizza Toast
The following ingredients are required to make this pizza toast recipe
For the pizza sauce:
1 tbsp BBQ Sauce
1 tbsp Tomato Puree
1 tsp Garlic Puree
1 tsp Black Pepper
For the pizza toast:
2 slices of thick cut bread
1 portion of BBQ Pizza Sauce
45 grams of cheddar or Gouda cheese
4 slices of pepperoni
2 Frankfurter sausages
1 tbsp sweetcorn
As I said above you can really make this with any ingredients you have to hand. Just like Toasted Sandwiches, Pizza's are a great way to use up leftovers and fight food waste.
Directions to make Pizza Toast
Here are the step by step directions to make Pizza Toast
Make the Pizza Sauce
Put all the sauce ingredients into a bowl and mix
Check you have a smooth consistency and if required add a tiny amount of water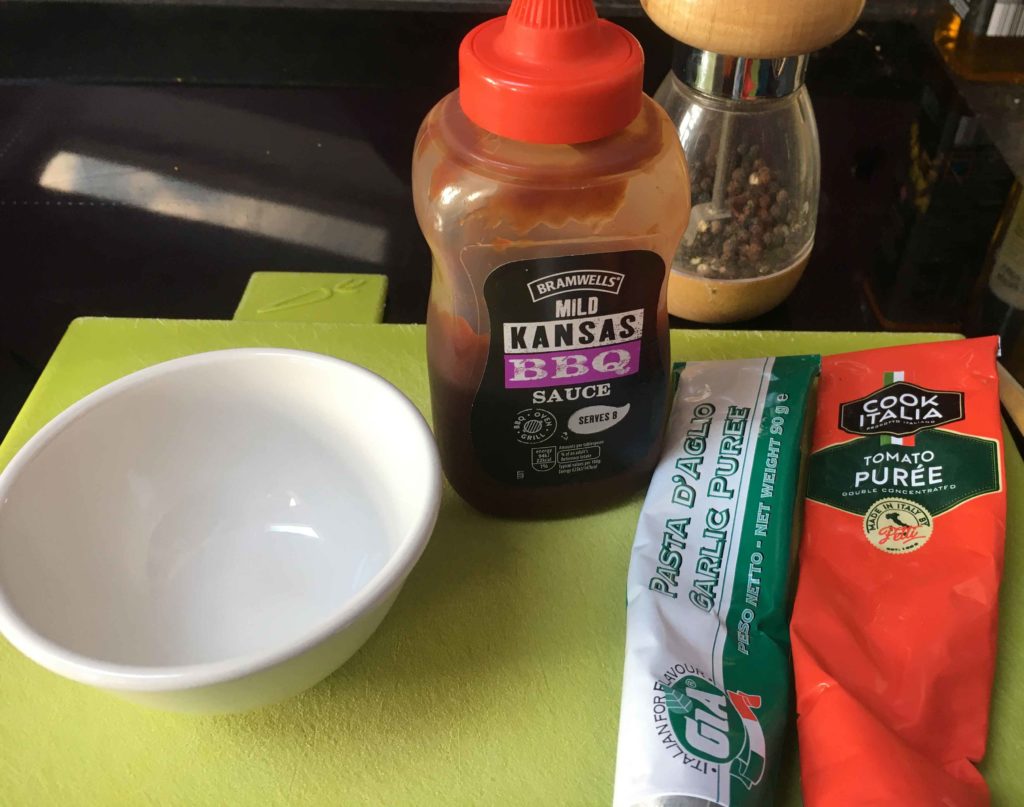 An even quicker option could be to buy a ready made pizza sauce (Amazon Affiliate Link) .
Make the Pizza Toast
Place the bread under the grill and toast one side
Chop the frankfurters into small chunks
Take the bread and on the non-toasted side spread the pizza sauce
Sprinkle on the frankfurter chunks and sweetcorn
Add the cheese to each slice
Top each slice with the pepperoni
Place the pizza toast back under the grill and cook until the cheese has melted and the pepperoni is crispy
Oven cooked Pizza Toast
If you have a bit more time you can opt to cook the pizza toast in the oven and will probably avoid the slightly charred edges of toast but this doesn't bother me and it will probably at least double your cooking time as you wait for the oven to heat up and the extra time take to cook the pizza toast.
Top it off
Top off your Pizza toast with some fresh basil and possibly a drizzle of balsamic oil.
Alternative Pizza Toast Toppings
Here are some alternative toppings you can try on your Pizza Toast
Mushrooms and Onions
Salami and chill
Meatballs and sweetcorn
Tuna and bell pepper
Ham and Pineapple
Chicken, bacon and avocado
Comment with your favorite pizza topping to continue the list.
Unusual Pizza Toppings
If you are interested in discovering some more unusual pizza toppings then take a look at this post from CBC.CA.
Pizza Toast is great for kids
As well as making a tasty lunch Pizza Toast can be a great after school dinner and allows you the chance to get the kids involved by building their own Pizza Toast.
Pizza Toast Recipe Card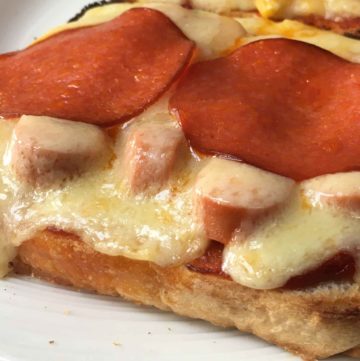 Pizza Toast Recipe
Upgrade from Cheese on toast and enjoy all the flavors of Pizza with this simple Pizza Toast Recipe
Ingredients
1

tbsp

BBQ Sauce

1

tbsp

Tomato Puree

1

tsp

Garlic Puree

1

tsp

Black Pepper

2

slices

thick cut bread

45

grams

Cheddar cheese

Mozzarella and Gouda are also good choices

4

slices

Pepperoni

2

Frankfurter sausages

1

tbsp

sweetcorn
Instructions
Make the pizza sauces by combining the BBQ sauce, tomato puree and garlic puree and black pepper in a bowl and mix together

Place the bread under the grill and toast one side

Chop the frankfurters into small chunks

Take the bread from the grill and spread the pizza sauce on the non-toasted side

Sprinkle on the frankfurter and sweetcorn

Top each slice with pepperoni

Place under the grill and cook until the cheese has melted and the pepperoni is crispy
Video
Toastie Club
If you liked this recipe and want more then be sure to join the toastie club and receive a new recipe every week.
Did you make this recipe
If you make this recipe then make sure you share a picture on Instagram and tag me @toastie_chef so I can take a look and share it.
More toasted recipes
For more toasted sandwich and toasted sandwich inspired recipes check out my A..Z of Recipes.