A delicious, closed style (Breville toastie), Pepperoni Pizza Toastie Recipe.
Prep Time: 5 minutes
Cook Time: 10 minutes
Calories: 400 per toastie
Since you've arrived on my humble website I can assume three things with great confidence. You love toasties, you love pizza, and you want a recipe that perfectly brings these two things together into a Pizza Toasted Sandwich.
Well, you've found what you are looking for as I have the perfect Pizza Toastie recipe that is super easy and super tasty.
Join the Toastie Club and Save
Are you a toastie person?
Do you like to enjoy an easy, quick and delicious lunch while cutting down on food waste?
If the answer is yes then make sure you join the Toastie Club today and become part of a community of toastie fans. A group of busy people who get stuff done but still want to enjoy good food.
Plus, if you join the Toastie Club today you'll get a 105 discount on all of my recipe packs.
How to make a Pizza Toastie
Ingredients
You will need the following ingredients to create this Pepperoni Pizza Toastie.
For the Pizza Sauce
Tomato Puree
Garlic Puree
Smoked Paprika
Salt & Pepper
Tomato Ketchup
For the Pizza Toastie
4 slices of pepperoni
1 portion of pizza sauce
2 slices of Gouda cheese
2 slices of thick cut bread
Directions to make a Pizza Toastie
Mix the tomato puree, garlic puree, paprika, salt, pepper and ketchup together in a bowl to create the pizza sauce
Spread the pizza sauce on both slices of bread
Lay a slice of cheese on one slice of bread
Add the 4 pieces of pepperoni covering as much of the cheese as possible
Lay a slice of cheese on top of the pepperoni
Closed the sandwich with the other slice of bread
Cook the pizza toastie for 10 minutes
More information on the ingredients
Tomato Puree
Behind every good pizza sauce is a good tomato puree. This provides a strong base of thick tomato flavour to build your sauce on.
Never just use tomato puree as on its own it doesn't really make a very good pizza sauce and can often burn or dry out.
Average cost of Tomato Puree : £1.10
Garlic Puree
Tomatoes and garlic go together really well and it is full of great health benefits so adding a small amount to your pizza sauce will really lift it.
Average cost of Garlic Puree : £0.80
Smoked Paprika
The smoked paprika delivers a tiny touch of heat and bbq to the sauce and takes it beyond a simple tomato sauce to something a bit more special.
Average cost of smoked paprika : £1.60
Salt and Pepper
Add some salt and pepper for seasoning.
Average cost for salt and pepper spices : £4.00 (for the pair)
Tomato Ketchup
This ingredient may take you buy surprise but it is really pivotal to a successful pizza sauce.
The tomato ketchup provides a hit of sweetness that compliments the smoked paprika and also adds just the right amount of moisture to the sauces to stop it drying out when cooked and staying as a nice thick sauce.
Average cost for 900g of tomato ketchup : £2.50
Pepperoni
Pepperoni is a mix of beef and pork cured with paprika, salt, garlic and a few spices, and is a classic pizza topping known the world over. You can buy a whole sausage of pepperoni but for this recipe I recommend getting the sliced version as it will be nice and thin which is perfect for this recipe.
Average cost of a pack of sliced pepperoni : £1:15
Gouda Cheese
Gouda cheese is fact becoming my cheese of choice for toasties as it comes with a soft smoky flavour and melts really well. Therefore, it was a great choice for this pepperoni pizza toastie and it compliments the slightly spicy pepperoni.
Thick cut bread
You could use a medium cut bread for this toastie but I opted for thick to ensure all that sauce and cheese was contained within the toasted sandwich. You could also use the specialist toastie cut.
Equipment required for this recipe
To create this pepperoni pizza toastie I used my trustee Tower 3-in-1 toasted sandwich maker with the closed toastie plates.
This toastie is a great choice for a traditional Breville toasted sandwich maker or could be made in the oven.
If you are thinking about upgrading your toastie maker or buying for the first time then be sure to check out my guide before you do.
Enjoy a Pizza Toastie with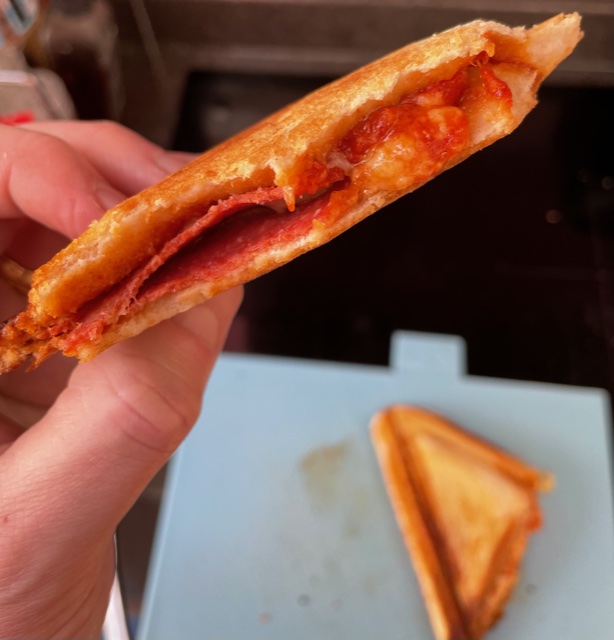 Enjoy this pepperoni pizza toastie with a cold glass of fizzy soft drink like diet coke and a small crunchy salad on the side.
You don't need any more sauces or dips on the side as this pizza toastie has enough tasty sauce inside.
Pizza Toasted Sandwich Recipe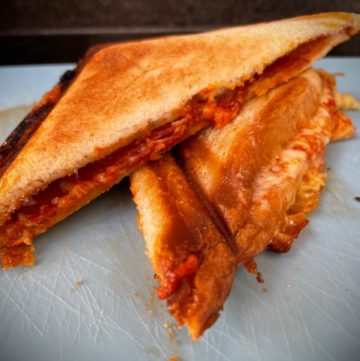 Pepperoni Pizza Toastie
A delicious pepperoni pizza toastie cooked in the traditional closed sandwich way.
Ingredients
2

slices

Thick cut bread

4

slices

pre-cut pepperoni

2

slices

Gouda cheese

t

tsp

Smoked paprika

1

tbsp

Tomato puree

1

tsp

Garlic puree

1

pinch

salt

1

pinch

pepper

1

tbsp

Tomato Ketchup
Instructions
Mix the tomato puree, garlic puree, paprika, salt, pepper and ketchup together in a bowl to create the pizza sauce

Spread the pizza sauce on both slices of bread

Lay a slice of cheese on one slice of bread

Add the 4 pieces of pepperoni covering as much of the cheese as possible

Lay a slice of cheese on top of the pepperoni

Closed the sandwich with the other slice of bread

Cook the pizza toastie for 10 minutes
Video
Affiliate disclaimer
This pepperoni pizza toastie recipe contains affiliate links to Amazon UK. If you click on the link and make a related purchase I may get a small commission. For more details see Privacy Policy.