What is a Toastie
In this post I explain just what is a Toastie?
This article also includes the common names for a toastie around the world.
What is a Toastie in the UK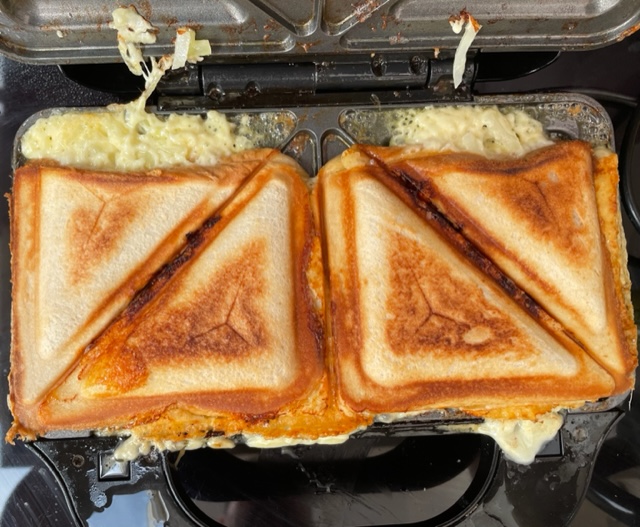 A Toastie in the UK is a sandwich (two or more slices of bread with a filing) cooked between two metal plates inside a toasted sandwich maker.
Traditionally the sandwich is sealed inside of the toasted sandwich maker keeping in the hot filling and allowing you to pack in the ingredients.
However, often in the UK we overpack the ingredients and you are left with an explosion of escaped and crispy cheese that is really delicious.
It is common to include cheese in a toastie in the UK but you don't have to.
One of the most popular toasties in the UK is the Baked Bean Toastie.
Is a Toastie a British Food Invention
Despite its huge popularity in Britain the Toastie was not a British invention.
The earliest toasted sandwiches and toasted sandwich makers, called Pie Irons, have their origins in the USA way back in 1920.
What is a Toastie called in America
In America they call a Toastie a grilled cheese and it is made by frying the sandwich in butter in a frying pan.
The default recipe is also made with American cheese between two slices of bread and nothing else.
Check out my grilled cheese recipe.
However, America is also home to a large number of tasty toasted sandwiches and I've covered some of the best here.
What is a Toastie called in Australia
Jaffle and Breville are both common terms for a Toastie in Australia.
They are both named after the manufacturer and inventor of two of the biggest brands of toastie maker in Australia. Jaffle and Breville.
Learn more about Jaffle.
What is a Toastie called in France
A toastie in France is called a Croque Monsieur and is a combination of sliced bread, beaten eggs, gruyere cheese and boiled ham.
It is a classic and popular dish found in most cafés and enjoyed as a lunch or breakfast.
A Croque Madame is a very similar dish to the Croque Monsieur except that it is served with a fried egg on top.
What are some great Toastie recipes
Now you know what a Toastie is, you propably want to try out a few recipes.
Great, to help you on your toastie journey the first thing you should do is join our Toastie Club and receive a free digital recipe book with 30 easy and super tasty toastie recipes.
What do you need to make a Toastie
To make a super tasty toastie you will need a Toasted Sandwich Maker.
Check out our guide to finding the best one or just buy the one that we use every week to bring you new recipes.