Yep, you read that right. A delicious Bolognese and Parmesan toasted sandwich recipe.
Jump straight to the Recipe card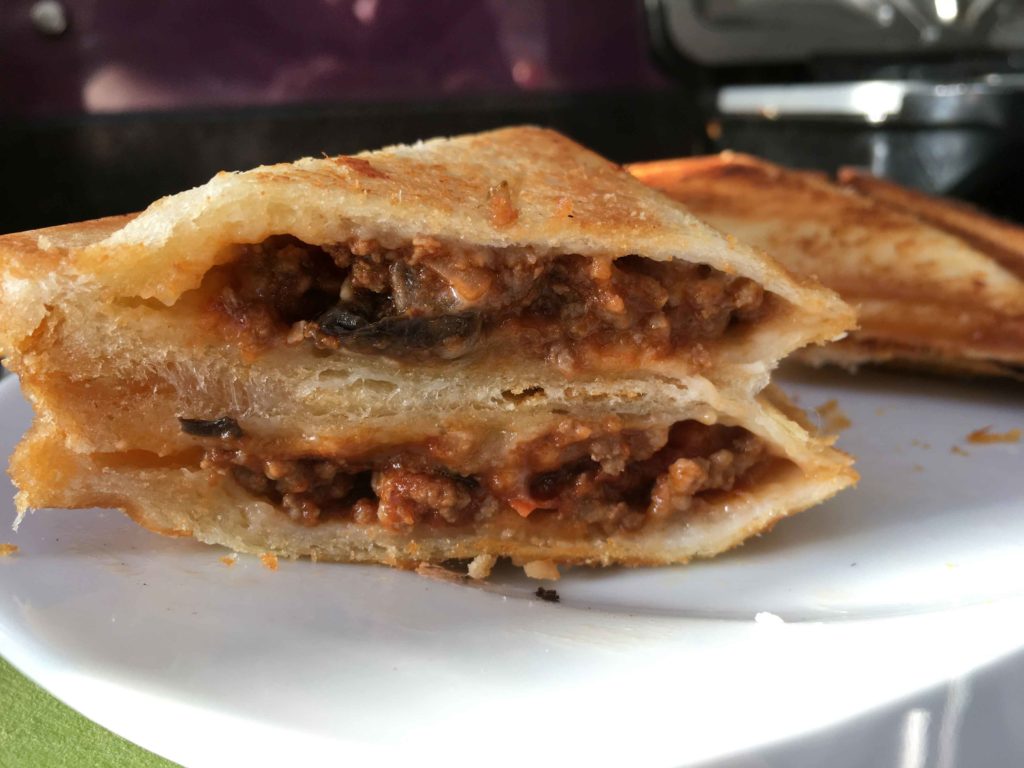 It all starts with the leftovers
One of the things I really love about toasted sandwiches, or any sandwich for that matter, is that they are a great place to experiment with leftovers.
After all, there aren't many leftovers that can't be improved by adding some cheese, some sauces, a few simple extras and then throwing them between two slices of bread.
So, when I came to the fridge last Saturday wondering what to have for my lunch and happened upon the left over bolognese, sitting nicely inside a red Systema tub, the answer came to me straight away and I have to admit I was really surprised just how well left over bolognese turned into a tasty toastie.
Bolognese sauce
What makes this such a successful toasted sandwich recipe is the bolognese sauce itself.
Not only is it already packed with flavors like garlic, mushrooms, peppers, tomato, etc etc but it will have a rich sauce likely made with olive oil.
So, when you cook up the sandwich the sauce inside the bread starts to soak into the bread as it heats up. When this happens it ends up creating a delicious crispy coating with just the subtle hint of red.
Parmesan
Inside the sandwich there was really only ever one choice of cheese. Parmesan, and a generous amount.
It melts beautifully through the bolognese sauce and gives a nice sharp flavor contrasting the sweet bolognese.
Use a fine grater with the Parmesan and ideally a simple handheld version as you can hold this easily over the bread as you grate.
Bringing together the bolognese toastie
Once you have loaded up the bread with bolognese and Parmesan cheese, butter the outside and place it in your sandwich maker for 12-14 minutes.
Remember the golden rules for the perfect toastie and don't open the sandwich toaster until your time runs out.
Once it is done you will be greeted with a lovely, golden, bolognese toasted sandwich that is the perfect lunch choice and a great use of leftover bolognese.
No need for any more sauce
While I often recommend a few dipping sauces with your toasties this bolognese toasted sandwich really doesn't need anything as it already comes loaded with a flavorsome sauce.
Bolognese Toasted Sandwich
This Bolognese and Parmesan toastie is possibly the best use ever for leftover bolognese.
Equipment
Toasted sandwich maker

Handheld grater
Ingredients
Left over bolognese

Parmesan cheese

2 Slices of bread

Butter
Instructions
Butter one of the slices of bread and place butter down into a hot toasted sandwich maker

Load the bread with the leftover bolognese

Grate a generous amount of Parmesan cheese over the bolognese

Place the second slice of bread on top and push down

Butter the top slice of bread and close the toasted sandwich maker

Rest for 2 minutes to allow the contents of the sandwich to be hot enough to bite into the sandwich
Notes
Make sure the butter is at room temperature so it spreads easily, or alternatively heat the butter in the microwave for 20-30 seconds
Experiment with left overs
Even if you don't make this great recipe at least it shows you what can be achieved with some simple leftovers.
So, next time you find some curry, Chinese takeaway or other food in your fridge have a go at creating a super tasty toastie just like I did above.
Join the Toastie Club
If you liked the recipe above and want more then join the toastie club today and get a new recipe every week.
More recipes
If you can't wait for your next Toastie Club update then head over to the my A..Z of toastie recipes now and find your next toasted sandwich.