With a spicy and smooth flavour that goes great with meat, cheese and salads Chipotle Mayonnaise is a must have in your sauce collection.
Why make your own Chipotle Mayonnaise
There are many good chipotle mayonnaise recipes on the market but the reason I recommend making your own is that you can control the texture, spice and flavours to match your tastes and the dishes you are making. You can also add some extras with ease to give you chipotle mayonnaise an added twist. For example just adding some garlic salt will give you a lovely garlic chipotle mayonnaise.
Chipotle Mayonnaise Recipe Video
Recipe Card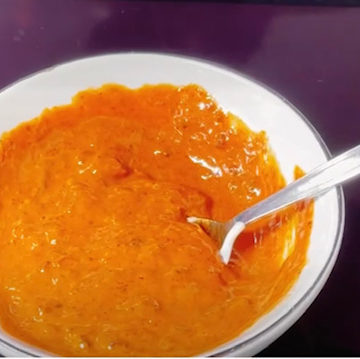 Easy Chipotle Mayonnaise
An easy recipe to make a smoky and spicy chipotle mayonnaise
Equipment
Small mixing bowl

Teaspoon
Ingredients
Chipotle Paste

available in most supermarkets

Tomato ketchup

Mayonnaise
Instructions
Place at least 1 teaspoon of the chipotle paste into the mixing bowl

Add at least 1/2 taspoon of ketchup

Add at least 2 teaspoons of mayonnaise

Mix together well and taste

Adjust the sauce with more of each ingredient until you have the right amount and right flavour of spicy mayo for your dish.
Video
FREE RECIPE BOOK
To get you started on your toastie journey I've put together a free digital recipe book with 30 easy to make, and super tasty, toastie recipes. Just enter your email address below and I will send you this great book today.
More about Chipotle Mayonnaise
What is a Chipotle
A chipotle is a smoked and dried jalapeno pepper that is used in lots of food to add a lovely smoked spicy flavour. It is a favourite in Tex-Mex and Mexican food but increasingly it can be found in more options, including tasty toastie recipes.
For more about chipotle and how it is created then check out this page on Wikipedia.
Chipotle is also the name to a chain of Mexican Restaurants based across London. Check out their menu and locations.
Chipotle Paste
What is Chipotle paste? Chipotle paste is simple chipotle peppers pureed into a smooth paste that creates a wonderful smokey and spicy paste you can use in lots of recipes….just like I did in this one.
Waitrose Chipotle Paste
Chipotle paste is available in all major UK supermarkets and can also be purchased on Amazon.
More Chipotle Based Recipes
Here are a few great recipes that use Chipotle as their main ingredient or focus.
More Recipes
If you are done with this recipe then be sure to check out more of my recipes.