A simple and delicious Gouda toasted sandwich with excellent Cheese Pull
Gouda cheese was first recorded back in 1184 and thanks to its lovely soft and sweet taste it has survived the test of time and is now one of the most well known cheeses in the world.
Gouda originates in the Netherlands and is still a mainstay of the dutch diet where they enjoy both the young and old versions of Gouda as part of their meals.
The secret to the sweet taste of Gouda is down to a process called washing the curd where the a large portion of the lactose sugars are removed form the cheese. These lactose sugars often turn acidic and give a cheese a harder and stronger taste but when they are taken out the cheese retains a sweet taste.
Additionally, by washing the curds you introduce a higher water content into the cheese which creates a higher moisture content which then gives Gouda its wonderful molten properties. These molten properties mixed with the soft sweet flavour are what makes Gouda such a great cheese for toasties.
Its molten properties means it melts brilliantly in your toastie and creates a lovely sweet chewy cheese to get your teeth into. It also provides great cheese pull which, lets be honest, is great fun and what you want from a cheese toastie.
Gouda cheese is the best cheese for getting cheese pull into your toastie.
So, if you want a great cheese toastie with great cheese pull then make this Gouda toastie recipe and make it the same way as I do. Be sure to watch the short video so you can see exactly how to build it for the best cheese pull.
Watch me make this Gouda toastie
The best way to learn to recreate this recipe is to watch me make it in this short (1 minute 52 seconds) video.
Ingredients
As you can see from the video this Gouda cheese recipe only has two ingredients, but they go together so well.
2 slices of thick cut bread
4-5 slices of Gouda cheese
Thick cut bread
I use thick cut bread as it contains the cheese well and helps fill you up until dinner time.
Gouda Cheese
I use a ready sliced Gouda cheese, like the one above, for this toastie (and many others) for convenience and taste but you could just as easily cut from a block. Just make sure you load up enough 🙂
What is cheese pull
Cheese pull is a term describing the long strands of cheese joining two slice or pieces of a food together e.g. toastie, pizza, nachos etc.
To achieve a good cheese pull you need to use a cheese with a high moisture content like Gouda.
Equipment Required
To make this Gouda toastie you just need a Toasted Sandwich maker and you can use either flat or traditional closed plates.
If you don't have a toastie maker yet then check out my buying guide to make sure you get the best one.
If you are short on time then I recommend you just get the same toastie maker as me – Tower 3-in-1 toastie maker.This is a great model offering a lot of options at a good price.
Recipe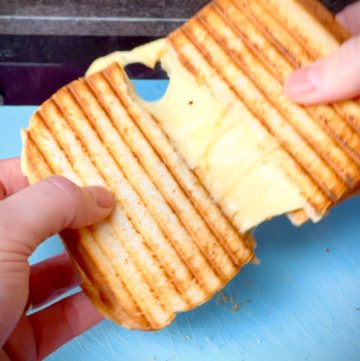 Gouda Cheese Toastie
A smooth and creamy cheese toastie that delivers flavour and excellent cheese pull.
Ingredients
2

slices

Thick cut bread

4

slices

Gouda cheese
Instructions
Load up one slice with the cheese slices, breaking them apart and placing more cheese in the centre than at the edge of the sandwich

Add the other slice of bread

Cook in your toasted sandwich maker for 8 minutes
Video
More Toastie Recipes
Happy Toasting
This recipe contains affiliate links to Amazon UK. If you click on a link and make a related purchase I may receive a small commission. For more details see my privacy policy.