Learn how to make the perfect beans on toast and enjoy this iconic British comfort food.
Plus, I've include 11 ways to upgrade your perfect beans on toast from comfort food to filling dinner.
Watch me make the perfect beans on toast
The best way to learn to make the perfect beans on toast is to watch me in this video.
Watch me make perfect beans on toast and then give it a try yourself.
Ingredients
You need the following ingredients to make and enjoy great beans of toast.
2 (very) thick slices of white bread from an uncut loaf
1 can of regular baked beans
Salted butter (from the fridge)
While you may not need a lot of ingredients to make the perfect beans on toast it is very important you get the right ones and explain in more details here.
2 Slices of bread from an uncut loaf
An uncut loaf maintains its moisture much better than a pre-cut loaf which means it will toast up great on the outside while maintaining a soft centre.
Additionally, an uncut loaf allows you to cut yourself two very thick slices. Not quite doorstep size but not far off. You want about a 1 cm slice.
1 Can of regular baked beans
While at time you may want to use reduced sugar beans to make the best beans on toast you need a regular tin of beans as the added sweetness really helps to make the flavour.
For the perfect beans of toast you want to make sure you go for a traditional tin of haricot beans in tomato sauce.
My favourite baked bean brands to use are:
These two brands both have a rich tomato sauce, a generous amount of plump beans and a sweet taste.
Salted butter
The third and final ingredient for wonderful beans on toast is the butter. You want a generous amount and you want salted butter. The salt works well between the sweeter beans and soft bread and brings the dish together.
My favourite choice of butter for the perfect beans of toast is County Life but also Lurpack and President are good choices.
Directions to make Beans of Toast
Follow these steps to make the perfect beans on toast.
Cook the beans well
For the perfect beans on toast you want to cook the beans, in a saucepan, until they they have been bubbling away for a few minutes and the sauce has thickened (as some of the water has evaporated) and the colour has slightly lightened on the beans.
You want to do this so you have a nice thick sauce that will mix well with the butter and still stick to the bread along with the nice soft beans that will melt in the mouth.
Toast the bread
Toast the two slices of bread under the grill to medium so it has good colour, a solid crunch but not so much that it will cut teh roof of your mouth which is always a risk with uncut bread.
Bring it all together
The real secret for perfect beans on toast is how you bring it together and use the chilled butter. This is a tip I first heard on Radio Two one morning and gave it a go the same night and have been hooked ever since.
Take your hot toast from the grill and lay out on a plate and take generous slices of butter and place about the toast. The best way to do this is with a veg peeler.
Next, spoon your beans over the toast and butter ensuring you keep the beans inside the crust of the toast as much as possible.
What happens now is the hot toast and beans melt the butter which then infuses into both the beans and bread, elevating the taste as butter so often does for any dish.
Eat
All that's left is to get your knife and fork and enjoy the best beans of toast you will every taste.
Equipment required to make the perfect beans on toast
You only need the following equipment to cook the best beans of toast.
Saucepan
Grill or large slice toaster
Bread Knife
Vegetable peeler
Saucepan
The ideal saucepan for your beans is a small stainless steel saucepan similar to the one I have used. I like it as the beans get a good even cook and do not stick to the pan (as long as you stir regularly).
Grill or large slice toaster
The easiest way to turn your thick bread to crispy toast is to place it under the grill or a toaster that can hold large slices of bread (wide slot toaster).
Bread knife
Get yourself a decent serrated bread knife to make easy work of cutting those large slices of bread.
Veg Peeler
The easiest way to get nice slithers from your chilled butter.
11 Ways to upgrade your beans of toast
So, you have enjoyed the best beans of toast. But now you want to add some twists to it to upgrade it to the next level.
Here are ten ideas to to upgrade your beans on toast.
Baked Beans with a fried egg
Top your perfect baked beans on toast with one of two fried eggs. The combination of egg yolk with the beans and butter is just lovely.
Chorizo baked beans
Add a few squares of Chorizo sausage to the beans and cook on a low heat so the meat has time to soften and release that delicious paprika spiced oil into the beans.
BBQ Beans with Pancetta cubes
Take some cubes of pancetta and add to the saucepan and cook for three or four minutes on a medium heat to add some caramelisation to the meat. Next, add the beans and two generous tablespoons of maple BBQ sauce and cook for five to six minutes stirring regularly to blend the flavours.
Add some cheese to your beans of toast
Cheese is a great addition to beans and toast. Now, you can opt to just sprinkle some grated cheese on top of your beans as you serve it but I recommend that instead you top with grated cheese and then place in a warm oven for five minutes to make sure the cheese melts nicely all over the beans.
Of course, one other option you could consider is a baked bean and cheese toastie.
Spicy Baked Beans on Toast
If you like a bit of heat in your food then add some finely chopped chilli to your baked beans as they are cooking and enjoy spicy beans on toast.
Alternatively, if you want sweet and spice then add some sweet chilli sauce to the beans as you cook them.
Black pudding with beans
Similar to the pancetta option above, crumble some good quality black pudding into the saucepan and as it is starting to crisp up add the beans and cook for a few minutes.
The blakc pudding make break up a bit but will mix well with the beans and enhance them with its unique flavour.
Cajun spice and pepper beans of toast
For a spicy and fresh twist to your beans of toast add some Cajun seasoning and one freshly diced bell pepper as you finish cooking the beans.
For another use for this great combination take a look at my Cajun spiced bean quesadilla.
Make beans of toast with fried bread
Rather than toast a thick slice of bread use a thinner cut of bread and fry it in butter or oil before serving it with the beans.
Make beans of toast with french toast (eggie bread)
Similar to the option above rather than use regular toast serve up the beans on Froench toast, also known as eggie bread.
To create eggie bread take some dry or stale bread and dip in beaten egg. Make sure to cover all the bread and that it soaks in a good amount of egg. Once done cook in a hot pan with butter until the firm and coloured nicely.
Paneer and baked beans on toast
Paneer is a wonderful soft-firm cheese, a bit like the texture of jelly, that is a staple of Indian food and goes great in curries and also goes really well with baked beans. Just cube up the paneer cheese and add to the beans a few minutes before they finish cooking.
Curried baked beans on toast
Curried beans are a lovely option full of flavour and really add to that warming comfort factor with beans on toast.
To make curried beans simply add some mild curry powder to the beans and stir it in well.
Printable Recipe Card
Here is your printable recipe card explaining how to make Perfect Beans on Toast.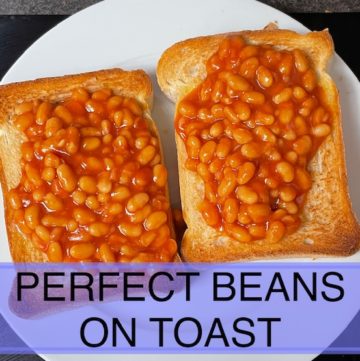 Beans on Toast
Learn the secret of how to make Perfect Beans on Toast and enjoy this British comfort food classic.
Equipment
Grill or wide slot toaster

Small saucepan

Vegetavle peeler

Bread knife
Ingredients
1

Uncut loaf (cut two thick slices)

1

tin

Good quality beans

30

grams

Chilled butter
Instructions
Cut two thick slices of bread and grilled to a golden colour.

Empty the beans into the saucepan and cook on a medium heat until bubbling and the sauce has thickened.

When the toast is ready, lay it out and use the veg peeler to cut slithers of chilled butter and place on the toast.

Spoon the beans onto the butter and toast keeping it inside the crusts to allow you to have soft toast with a mix of cruncy crust.
Video
Join the Toastie Club
If you love toasties, hate food waste and have a keen interest in learning more about food and kitchen gadgets then you want to be part of the Toastie Club.