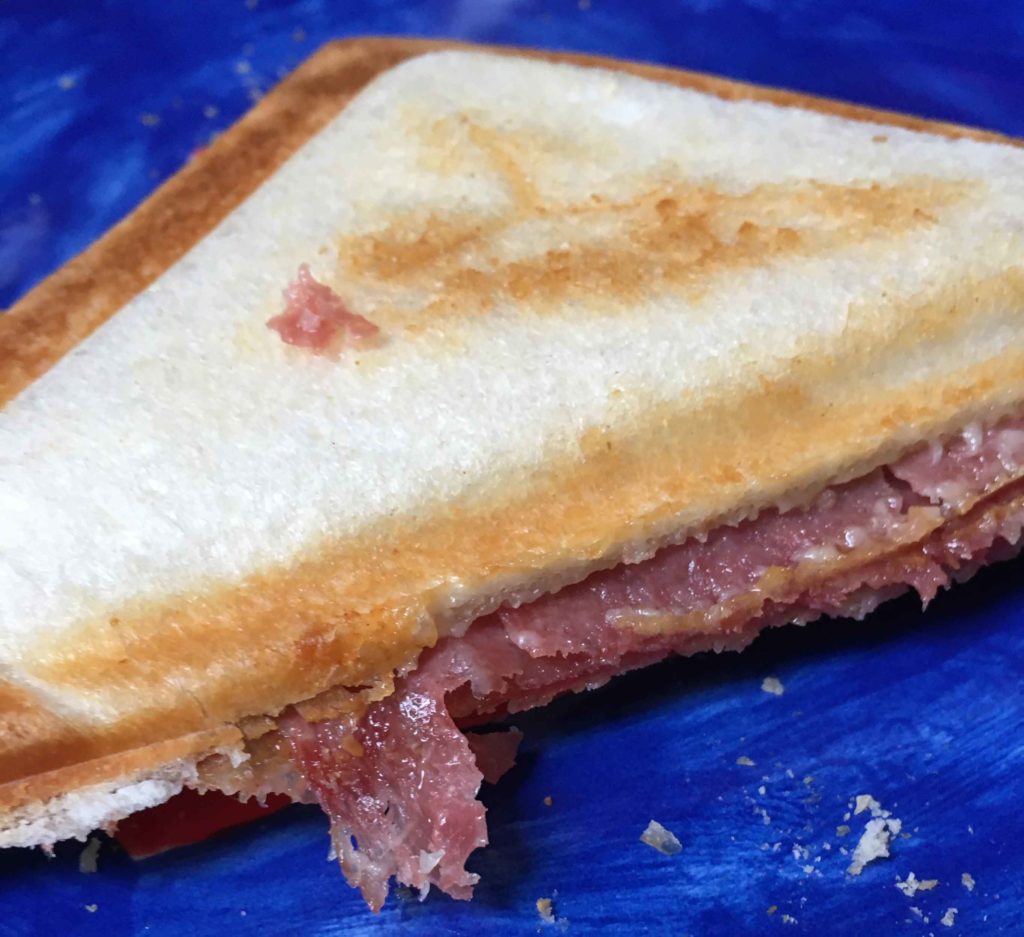 A delicious toasted sandwich made with Gouda cheese and Salami
Ingredients
With this toasted sandwich I was looking for a blast of contrasting flavors and got that from the smooth and nutty Gouda cheese with the tangy and mildly spicy Salami.
The ingredients for this toastie are:
Two slices of bread
Two slices of Gouda cheese
Mixed salami pack
Olive Oil
While the cheese is kept to two slices you want to be generous with the salami and layer it up.
If you are wondering what salami to buy for this sandwich, we recommend a mix pack of your favorites. We used Italian salamis but you could equally use Spanish or Germany.
How to make a Gouda and salami toastie
Lay out your bread on a chopping and place a slice of cheese on each slice. You are looking for the cheese to cover as much bread as possible within the slice.
To help with this I took off too strips from the end of the square cheese and laid out at the top and bottom of the slice.
The next step is to layer up a good helping of the salami on one of the slices and then bring the two slices together and push down gently.
Drizzle olive oil over the top of the sandwich and then place this side down into a hot toasted sandwich maker. Drizzle olive oil on the top slice and then close the lid of the sandwich maker.
Leave it for ten minutes and then enjoy a crispy and delicious toasted sandwich.
Gouda and Salami Toasted Sandwich
A delicious nutty and melted Gouda cheese with a mild spicy and tangy hit of salami
Ingredients
2

Slices

Gouda Cheese

5+

Slices

Salami

2

Slices

Bread

1

tbsp

Olive oil
Instructions
Place a slice of Gouda on each piece of bread

Layer the salami on one slice

Place the other slice on top and push down gently

Brush the top slice with olive oil

Place the sandwich top side down in the toasted sandwich maker and brush the remaining slice with olive oil

Close the toasted sandwich maker and toast for 10 minutes

Once cooked, slice into triangles and enjoy
What to serve this toasty with
You can serve this toasty with some pickles or olives on the side to help cut through the cheese and sharpness of the salami. Plus, it brings a touch of tapas to this great snack.
Equipment to make this toasty
The following equipment was used to make this tasty Gouda and salami toasted sandwich
More
Looking for a new toasted sandwich maker and unsure where to start? Check out our comprehensive buying guide and top picks.